What's the difference between a Photographic and a Poster Print?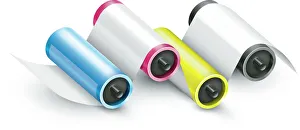 Can't decide what to buy? Getting confused with too much choice? We're here to help. Let's break down the difference between the type of prints so you choose what works for you. All images in our collections can be made into prints. These days most of us can't tell the difference between a photographic and poster print and that's because technology and machinery has advanced so much so every print will look just like the original artwork.
What are Photographic Prints?
A photographic print is a reproduction on photographic paper of an old-school photo or a digital camera image. These are printed to the highest of quality by our printing labs who use state of the art machines. Your photos will be the brightest and sharpest on top quality photo paper.
What are Poster Prints?
Our digital posters are produced on wide format inkjet printers which charge the particles to ensure the colour goes where the colour needs to go. Think of posters as the supersize option. They are enlarged prints which means you can display your favourite images on a large scale.
Prints Vs Posters
Let's get personal! The bottom line is, choosing a print or poster will likely depend on 2 things; how much you want to spend and where you plan to show off and share your favourite art. If you're looking for some art to fill a small space, then prints are for you. They are great pieces for your smaller walls, frames on your tables or perhaps even a gallery wall. If your space is larger and needs a statement piece that is eye-catching and makes you think WOW every time you see it, then posters are the way to go. They are fantastic for spaces that need a little pizzazz to make the area flow, or pop and stand out.
Fine Art Storehouse images are available in a range of print sizes from 15x10 cm (6x4") to 119x84cm (46x33") so you should be able to find the size that's right for you. To ensure your print is long lasting and high quality we use acid-free photo papers and archival inks. Without getting too much into the nitty-gritty, you wont need to worry about them yellowing and deteriorating over time.
If you need a little help, here's the most common sizes
Decorating your area with prints adds that individual style and flare to make the space uniquely yours. It is that little extra touch that can take your space from just looking functional to something that could grace the pages of an interior design publication.
Our photographic prints and posters have amazing colours and quality, allowing you to choose unique and affordable wall art for any space to suit your needs.
Framed photographic prints are perfect for bringing room décor together and any one of our images can be transformed into great framed wall art pieces. Striking a balance between quality and affordability, decorating walls with posters is cost-effective and an easy way to display eye-catching art on a grand scale.
Find prints you love in the size you want so you can say goodbyes to blank spaces and walls. With so many unique images to fit all sorts of tastes we guarantee you'll find prints that are just right for you.
We hope this has helped - now it's time to have some fun choosing the perfect print or poster for you!
Suzanne, 26th April 2021