Photo or Poster Print?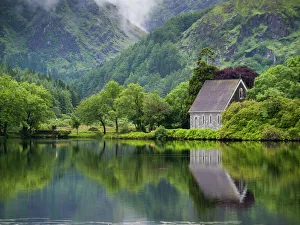 Our photographic prints and posters prints are similar. There is a very fine line between them; the main difference is the type of paper used. Both products are guaranteed to match the previews shown on our web site making them an accurate representation of the original artwork. To help you understand each product better, in this article, we will explore the small differences.
What Is a Photo Print?
The ink and other components used to create photographic prints is of a slightly higher quality than posters. Printed on archival quality paper (paper coated with light-sensitive chemicals) image sharpness is exceptional.
The versatility you can achieve with a quick and simple photo print is second to none. Perfect for framing, they are a popular choice, making them a welcome addition to any space.
What is a Poster Print?
Posters have been used as a method of communicating visually since the early 1800's when they were used to announce and tell people about shows, music, the circus and dances, as well as advertising products such as bicycles, cigarettes, tonics and fashion stores.
Poster prints (also called posters) are another kind of reproduction. Generally bigger than the average photo (and sometimes considered to be of lesser quality than other types of prints) Fine Art Storehouse posters are unique because they are printed on extremely high-quality poster paper. Available in standard posters sizes (A0, A1, A2, A3 & A4), striking a balance between quality and affordability, posters are perfect for fixing straight onto walls, adding the pop of colour a room needs.
Which is better - Prints or Posters?
Well, the answer depends entirely on what your purpose is and budget.
If you love nothing more than being in the presence of art, or perhaps you have a particular subject or artist that you admire? Perfect for framing, versatile and functional, a photo print may be a better option.
On the other hand, posters have grown more fashionable over the years. If you are looking for a quick, easy, inexpensive and, more importantly, a bigger print for decorating a space, opting for posters may be ideal for you. They make great art pieces and are perfect for bringing room décor together. Framed with a contemporary poster frame, they look even more amazing.
Either product is of an excellent quality, so which one you choose really depends on your personal preference, as both have their unique place in any space.